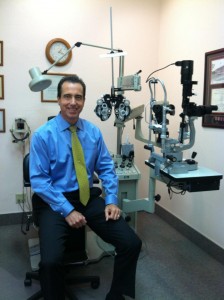 Dr. Jeffrey Fanelli was born and raised in West San Jose, where he graduated from Blackford High School and received academic honors including a California State Scholarship award to the University of Santa Clara.  In 1979, he graduated with a Bachelor of Science degree in Combined Sciences.  Before entering Optometry School, Dr. Fanelli worked at Lockheed Missiles and Space Company in Sunnyvale as a Communication Satellite Operations Engineer.  He received his Doctor of Optometry degree from Southern California College of Optometry in 1984.  While in Optometry school, Dr. Fanelli was active in many academic, administrative, and professional optometric organizations.
Following graduation, Dr. Fanelli started his optometric practice with an established optometrist in San Jose who was world known for his contact lens care products.  He spent about two years with him, gaining much experience in the area of contact lenses.  In early 1985, Dr. Fanelli began working with one of the top ophthalmologists (eye surgeons) in Santa Cruz, who had an outpatient surgical center adjacent to his office and specialized in cataract surgery, corneal transplants, radial keratotomy, laser treatment, cosmetic eye surgery, retinal photography, and contact lenses.  Dr. Fanelli spent over five years, part-time, in Santa Cruz adding to his knowledge of vision care.
In February 1986, Dr. Fanelli established, with Dr. Larry Fabian, Westside Family Vision Center, Optometric Group, as a general partnership.  They went on to open a second office in February 1987, SaratogaVisionCenter.
Dr. Fanelli is a member of California Optometric Laser Associates, the American Optometric Association, California Optometric Association, and Santa Clara County Optometric Society (S.C.C.O.S.), in which he served on the Board as Director of Communications for several years.  He has worked extensively in the past on the S.C.C.O.S. "Save your Vision Month" project.  Dr. Fanelli has been on local radio stations such as KBAY, KLIV, and KARA, along with the San Jose News channel, KNTV.  He has also had several newspaper articles published in many of the local county newspapers, including the San Jose Mercury News, such as "Keep children's good vision and eye safety in mind when selecting toys at Christmas," "Safety Tricks for Halloween," "Vision problems may lead to problems in the classroom," "Tips on selecting the best sunglasses for your eyes," "Medicare vision benefits expanded to include optometry," and "Save your vision month to feature no cost vision screenings and county-wide coloring contest for children."  In addition, Dr. Fanelli has helped design many public service messages regarding the above topics for local radio stations.
Dr. Fanelli belongs to the Saratoga Chamber of Commerce, University of Santa Clara and Southern California College of Optometry Alumni Associations, Beta Sigma Kappa Honor Fraternity and the Omega Epsilon Phi Fraternity.
During the past 30 years, Dr. Fanelli has been practicing optometry, emphasizing family preventive vision care, specialty contact lenses, refractive (including laser vision correction) and cataract surgery co-management, specialized testing for the diagnosis and treatment of glaucoma, computer vision ergonomics, and vision perceptual/developmental testing and therapy.  In addition, Dr. Fanelli has worked in the practice with 4th year optometry externs from the Illinois College of Optometry, teaching them the clinical and practical skills needed to run a successful optometric practice.
Dr. Fanelli and his wife Toinette live in east Campbell.  Their son Kevin works in accounting and is studying for his CPA credentials in San Diego.  Dr. Fanelli and his family enjoy sports, fitness, boating, traveling, gardening, cooking, and their dog Jillian.