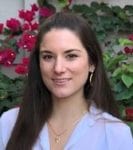 Dr. Jenna McBride, O.D. was born and raised in Saratoga, California.  She received her bachelor's degree in biology from Santa Clara University in 2014, and then went on to graduate with her optometric doctorate from UC Berkeley School of Optometry in 2018.  Dr. McBride was awarded membership in Beta Sigma Kappa, the optometric honor society, all four years of her graduate studies.  She completed her optometric internships at Crow/Northern Cheyenne Indian Health Services Hospital in Montana, Walter Reed National Military Medical Center in Maryland, and the Veterans Administration Hospital in Miami, Florida.  Dr. McBride has vast experience with contact lenses.  She enjoys working with children.  A therapeutically licensed optometrist, she is trained to diagnose, manage, and treat many binocular vision conditions and ocular diseases including glaucoma, macular degeneration, diabetic retinopathy, and cataracts.  She is Paragon CRT Certified and Glaucoma Certified.
Dr. McBride is a member of the American Optometric Association (AOA), the California Optometric Association (COA), and the Santa Clara Optometric Society (SCCOS).  She is a committee member of the MCT program through SCCOS, which aims to provide vision screenings for school age children in Santa Clara County.  During her time in optometry school, Dr. McBride was the membership coordinator for the student branch of AOA and regularly volunteered her time with vision screenings in San Francisco.  Outside of optometry at UC Berkeley, Dr. McBride served as the director of the Graduate Women's Project, working toward connecting all UC Berkeley graduate women to support systems available on campus and advocating on their behalf at the campus and community level.
In her free time, Dr. McBride enjoys hiking and camping, as well as spending time with her family and Siamese cat.